Online courses for good inter­nal com­mu­ni­ca­tion
&


a pro­duc­tive and prof­itable coop­er­a­tion
Overview of the cur­rent acad­emy courses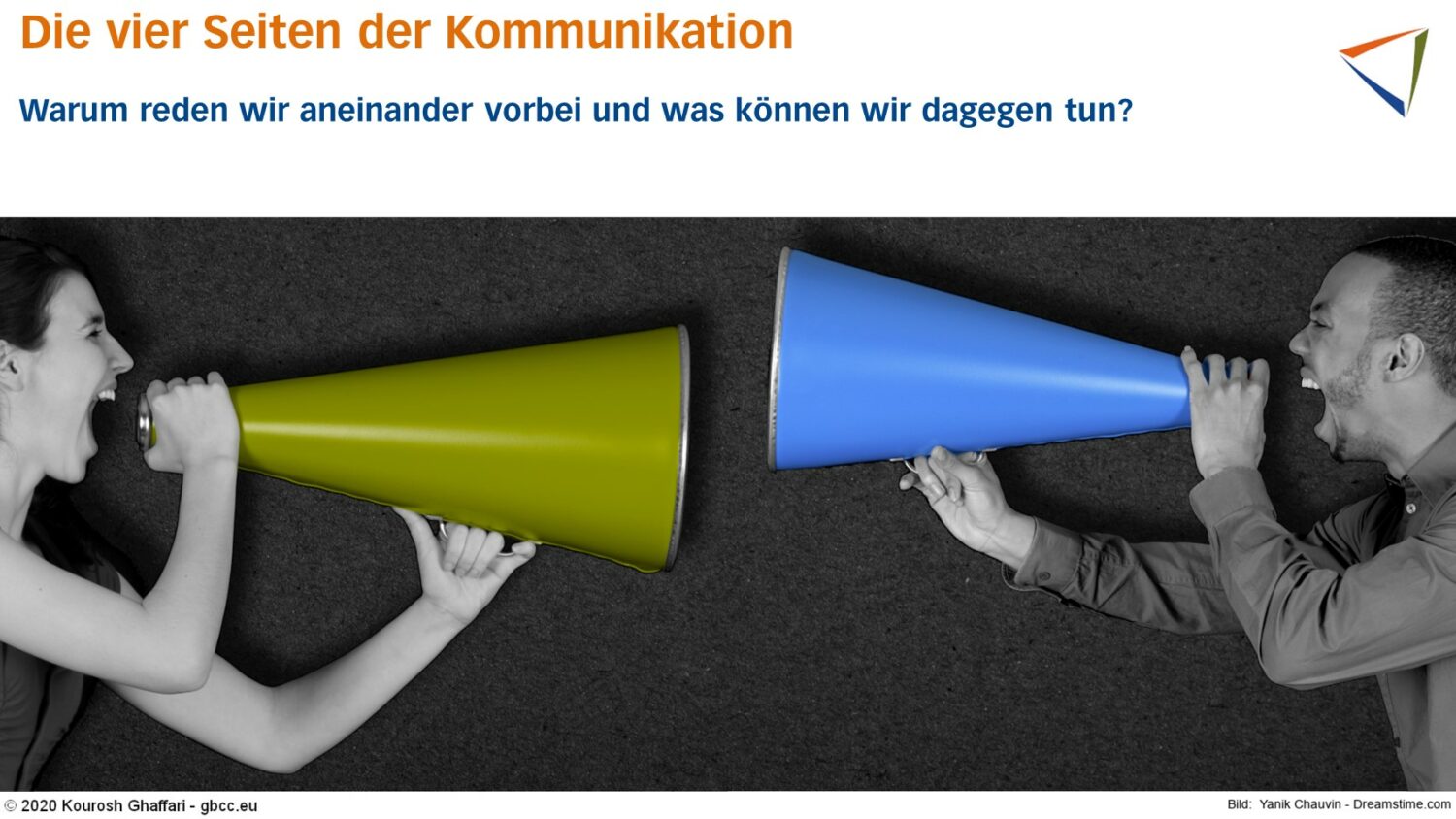 Interne Kom­mu­nika­tion:
Wie entsteht Mis­skom­mu­nika­tion und was tun wir dage­gen?
Gründe für Mis­skom­mu­nika­tion erken­nen und den eige­nen Kom­mu­nika­tion­sstil opti­mieren
Inter­nal com­mu­ni­ca­tion:
How does mis­com­mu­ni­ca­tion arise and what do we do about it?
Recog­nise rea­sons for mis­com­mu­ni­ca­tion and opti­mise own com­mu­ni­ca­tion style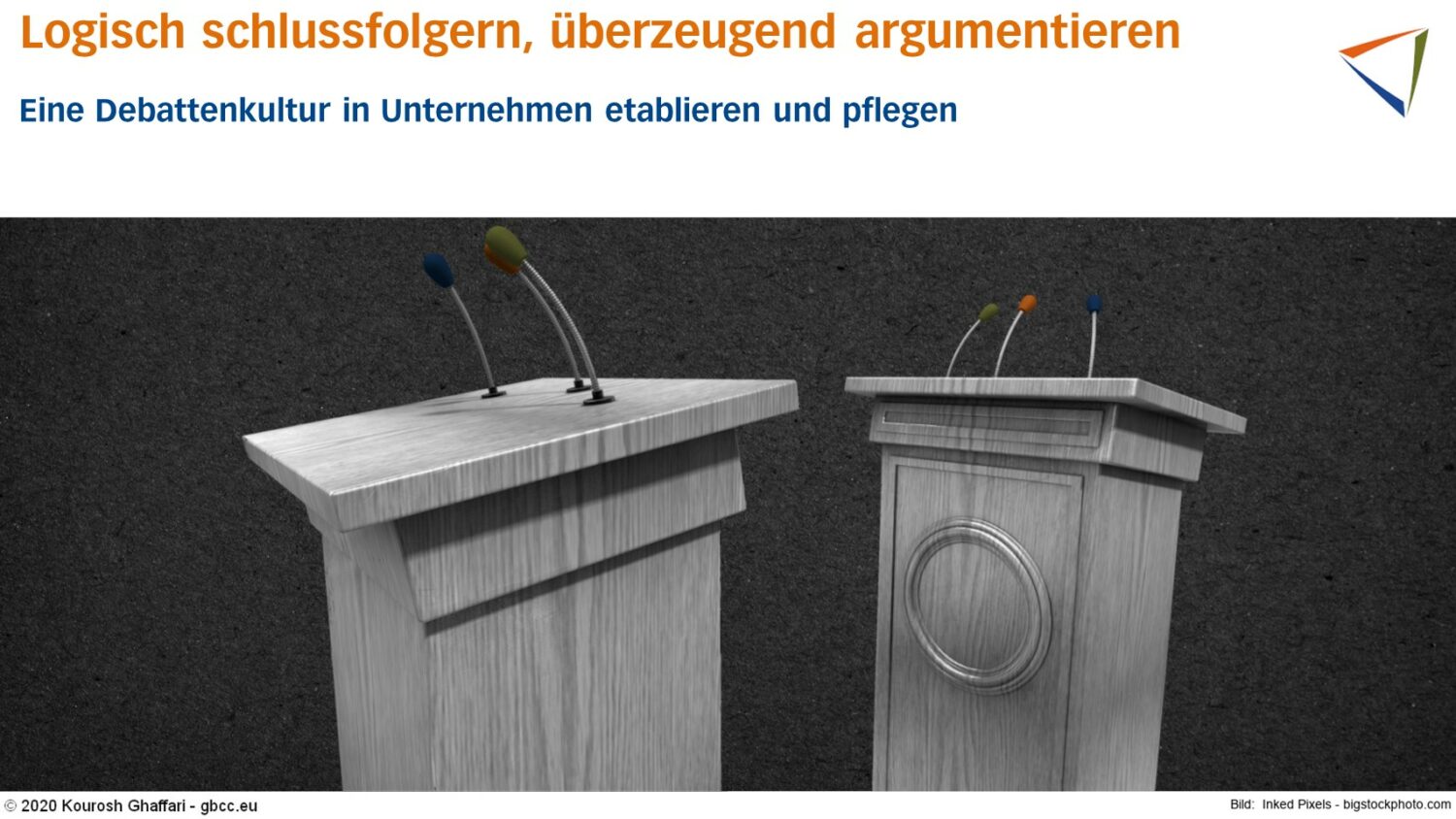 Interne Kom­mu­nika­tion:
Debat­tenkul­tur: logisch schlussfol­gern und argu­men­tieren!
Logis­che Argu­mente liefern, die für sich sprechen – ohne Rhetorik oder »Tschakka«-Getue!
Cus­tomers' votes
My expec­ta­tions were not only met, but exceeded. Enter­tain­ing and con­cise with con­sis­tent prac­ti­cal rel­e­vance. Not only the the­ory well explained, but always made tan­gi­ble through exam­ples. ↓ Weiter­lesen!

Jür­gen Hintz, Depart­ment direc­tor in the finan­cial sec­tor and also self-employed in the beer sec­tor.
The course is very enrich­ing for all areas of life. The way Mr. Ghaf­fari approaches the topic and con­veys the con­tent to the course par­tic­i­pant is really remark­able. ↓ Con­tinue read­ing! It's fun and has many aha moments. Ref­er­ences to fur­ther infor­ma­tion will be given to those inter­ested along the way. You get your tools and can work out your own knowl­edge. In addi­tion, Mr. Ghaf­fari packs the com­plex top­ics in appeal­ing ani­ma­tions in his pleas­ant way, which you can not only look at, but also read. I find this for­mat very help­ful. I wish Mr. Ghaf­fari every suc­cess and all future par­tic­i­pants a lot of joy.

Kirsten Teich­ler, Bank clerk
Thanks to the course, I under­stand myself bet­ter and see my real strengths and what can be improved more clearly than ever before. That gives me some short­cuts in every­thing I do. ↓ Con­tinue read­ing!
I think the course is well designed and pleas­antly short. It is con­cise, easy to work with and yet has a very chal­leng­ing and instruc­tive con­tent!
It is a must for high per­form­ers who want to lead them­selves and oth­ers bet­ter!

Valentina Lev­ant, Relaxed High-Per­for­mance and Men­tal Strength
---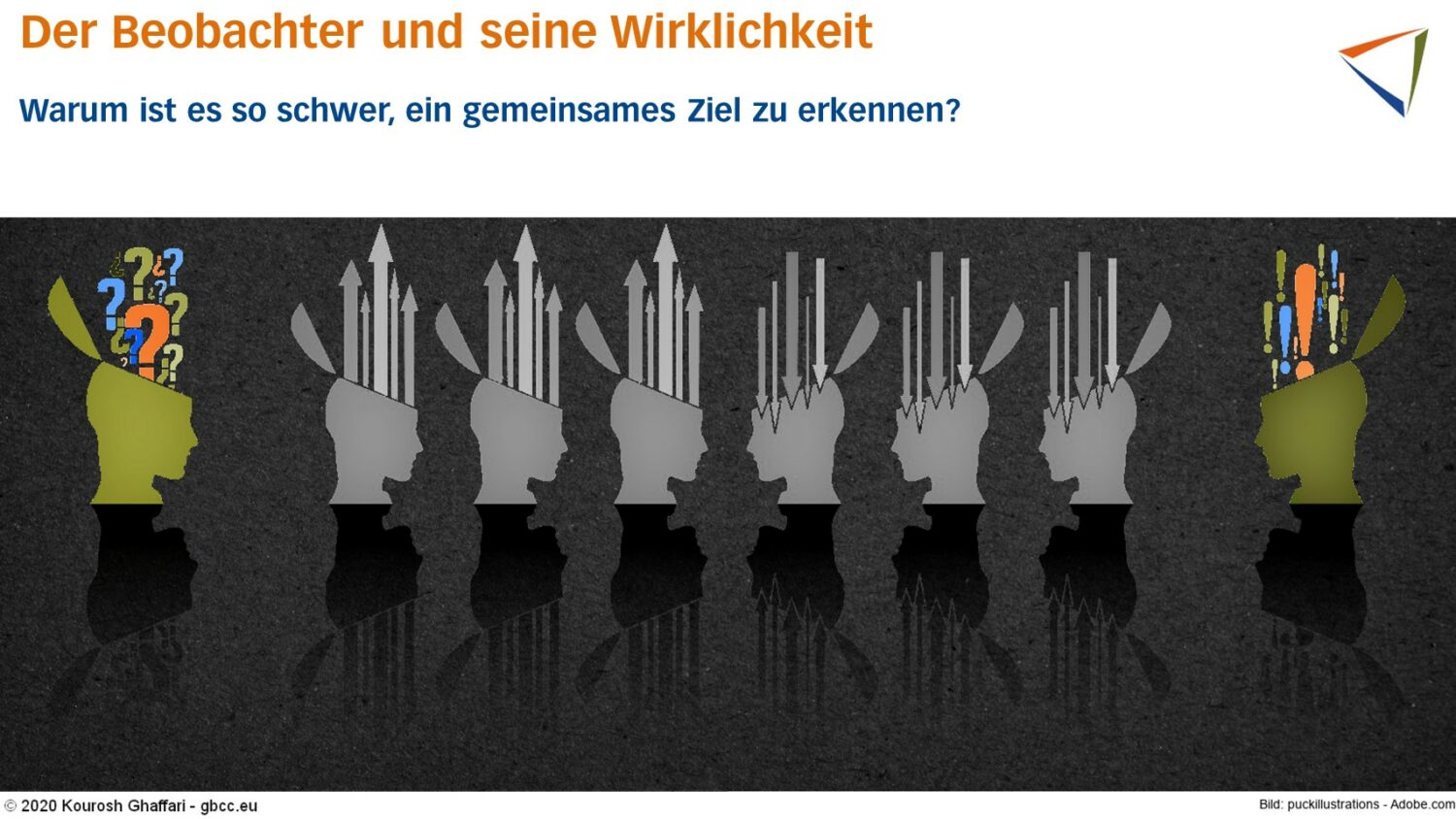 Gemein­sam Ziele erre­ichen:
Warum ist es so schwer, ein gemein­sames Ziel zu erken­nen?
Grund­kurs: Nur weil zwei das­selbe beobachten, heißt es nicht, dass sie auch das Gle­iche sehen!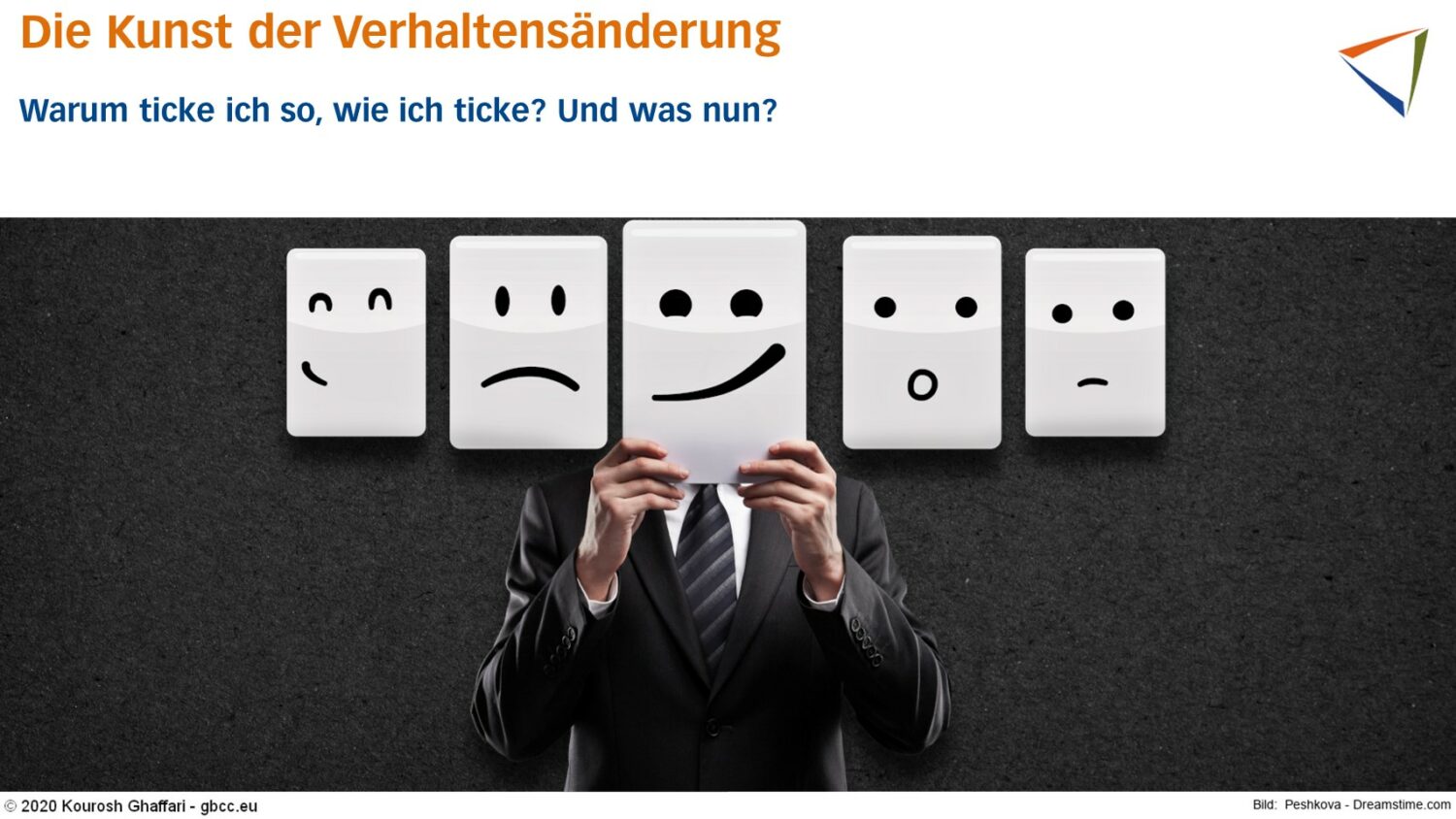 Selb­st­man­age­ment:
Eigene Blinde Flecke erken­nen & sich weit­er­en­twick­eln!
Auf­baukurs: Warum ticke ich so, wie ich ticke?
Und was nun?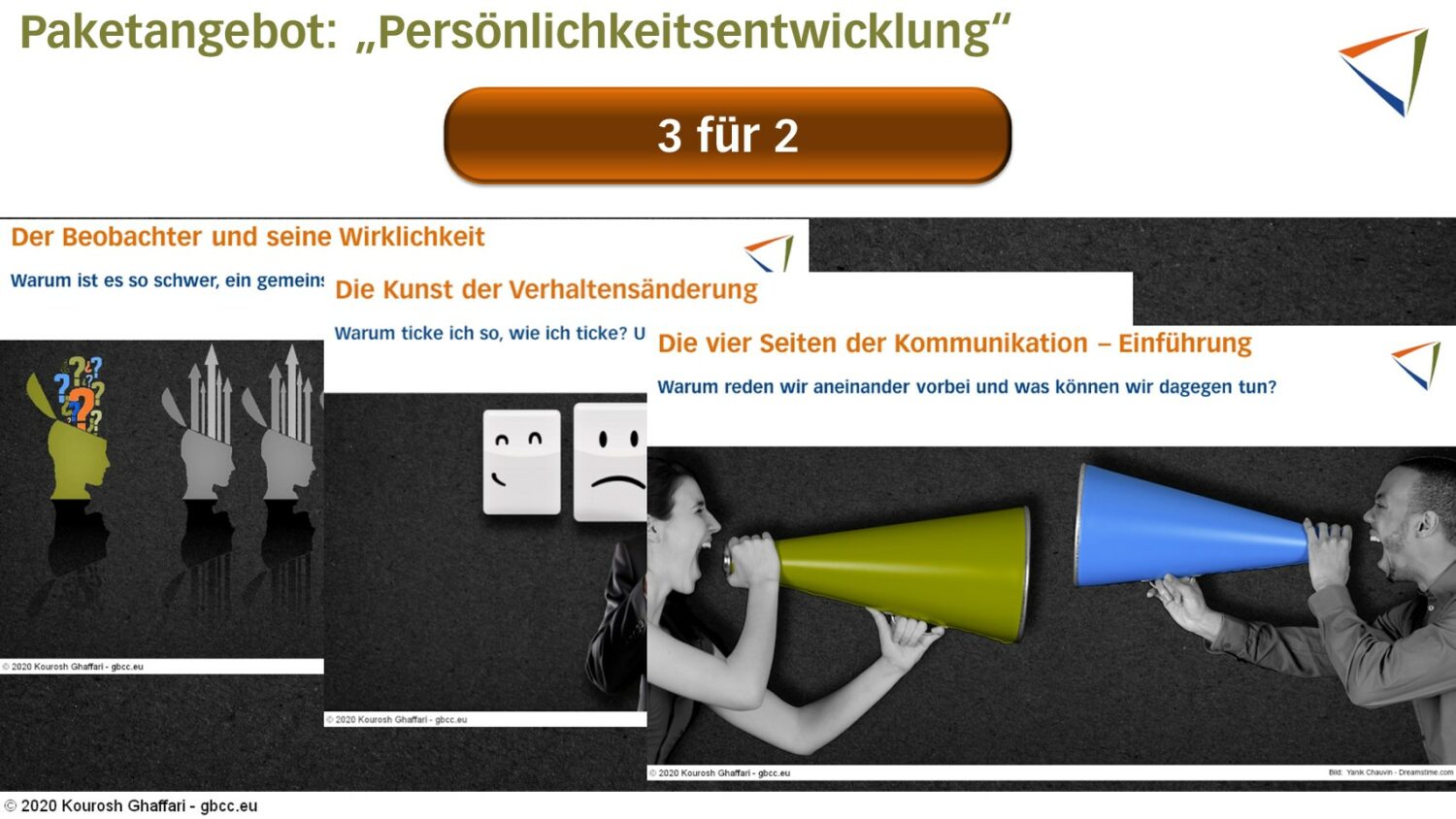 "Per­sön­lichkeit­sen­twick­lung"
Sie kaufen den Grund­kurs & den Auf­baukurs und erhal­ten
+++GRATIS+++
Ein­führung: Die 4 Seiten der Kom­mu­nika­tion
Wow! I think the con­tent is really great. Very chal­leng­ing con­tent in a very short time. Good com­bi­na­tion of the­ory plus prac­ti­cal exam­ples. I really liked explain­ing cor­re­la­tion and causal­ity, includ­ing the hid­den cor­re­la­tion, using the exam­ple of com­pany suc­cess!

Got­tfried Hündler, Busi­ness advice for pro­duc­tiv­ity
Finally a course that is short and con­cise and leaves out the super­flu­ous. You learn to con­sciously pay atten­tion to your own points of view and to fathom those of the other in the respec­tive pro­fes­sional con­text. The lit­tle exer­cises con­sol­i­date what has already been learned. Great! ↓ Con­tinue read­ing! I espe­cially like that I can lis­ten to and read the tuto­r­ial. The melodic pro­nun­ci­a­tion of Kourosh Ghaf­fari makes the whole thing a par­tic­u­larly won­der­ful lan­guage expe­ri­ence.

Sylvia Kloet­zel, Busi­ness pro­moter and sys­temic coach
A rec­om­mend­able course that invites you to change your per­spec­tive. The basic course deals with a com­plex topic in a very infor­ma­tive and clearly struc­tured way. ↓ Con­tinue read­ing! Basic terms and prin­ci­ples of inter­per­sonal dynam­ics are made clear and under­stand­able using numer­ous exam­ples. This knowl­edge is extremely valu­able in both per­sonal, pri­vate and busi­ness con­text. I received numer­ous new and use­ful impulses while work­ing on the course, which I was able to apply and try out in var­i­ous areas of my life, pri­vately and pro­fes­sion­ally. A re-exam­i­na­tion of past sit­u­a­tions also lets them appear in a dif­fer­ent light and I will at least inte­grate the newly acquired knowl­edge in the future and use it to shape my real­ity. An appeal­ing prepa­ra­tion of the con­tent has been achieved through videos and visual pre­sen­ta­tions. These are sup­ple­mented by tran­scripts and fur­ther spe­cial­ist arti­cles as addi­tional mate­r­ial. Exer­cises in which the course par­tic­i­pant is actively encour­aged to reflect com­plete the pro­gram. In this way, a deep­en­ing and broad­en­ing of your own under­stand­ing is stim­u­lated.

Hong Sang Ha, Trainer and Open­Mind Coach in train­ing, Vienna, Wien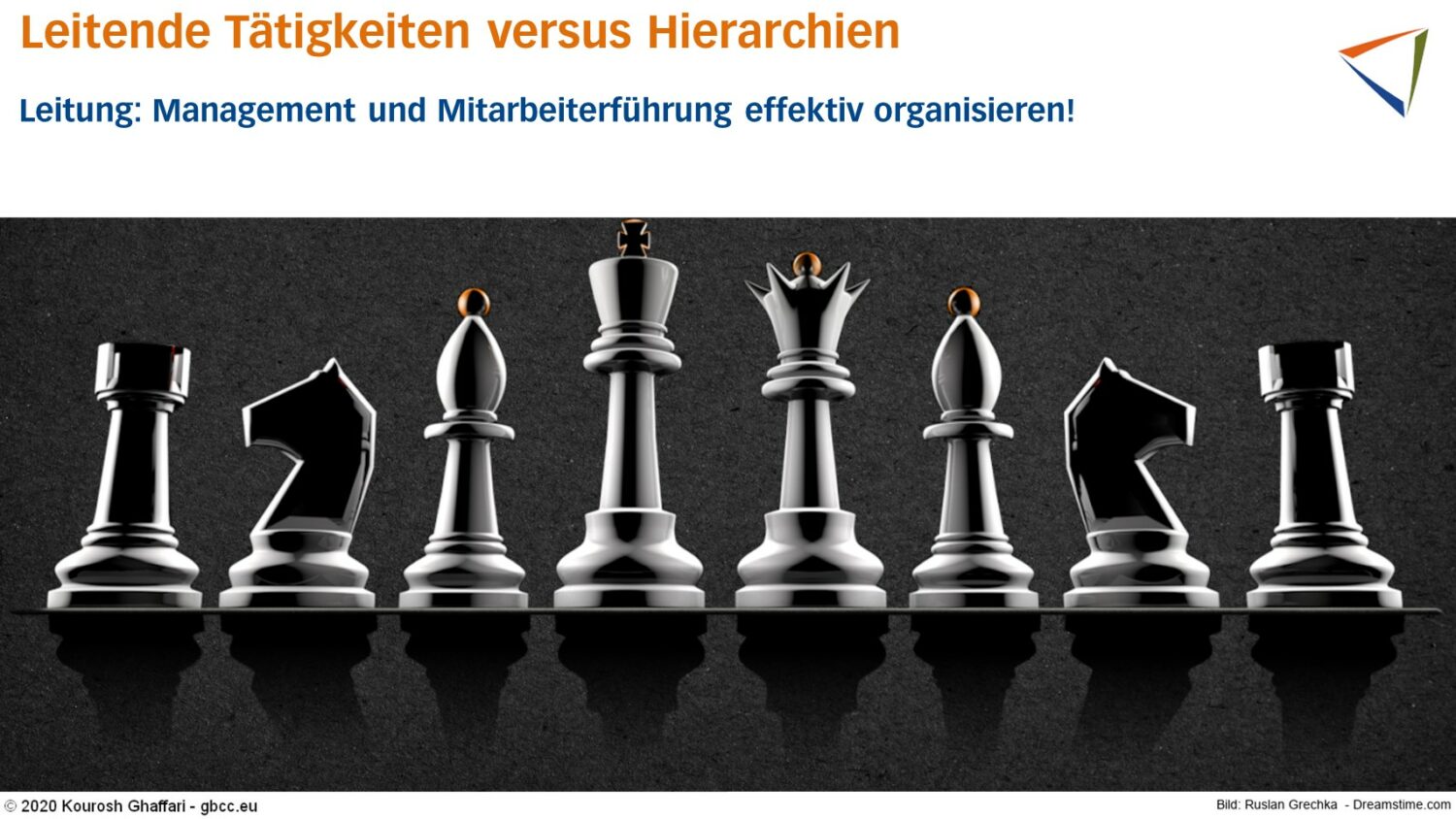 Leitung:
Mgmt.- & Führungs-Erwartun­gen ein­vernehm­lich klären!
Lei­t­ende Tätigkeiten braucht jedes Unternehmen – aber nicht zwin­gend Hier­ar­chien!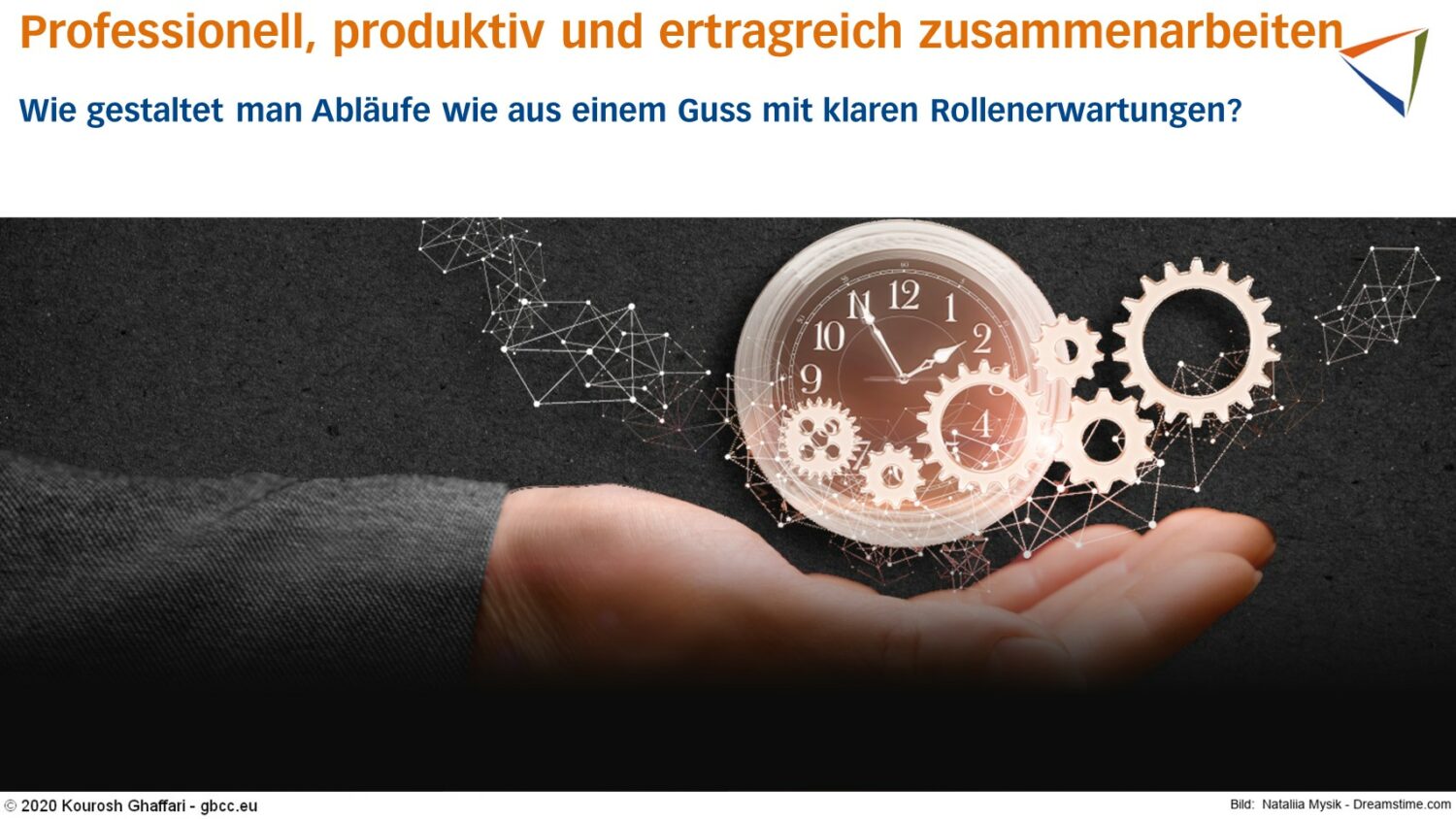 Prozess­man­age­ment:
Pro­fes­sionell, pro­duk­tiv & ertra­gre­ich zusam­me­nar­beiten!
Abläufe wie aus einem Guss mit klaren Rol­len­er­wartun­gen
Selb­st­man­age­ment:
Selb­st­di­ag­nose für Selb­st­ständige!
Set­zen Sie Ihre wertvolle Arbeit­szeit pro­duk­tiv und prof­ita­bel ein?
I am enthu­si­as­tic about e-learn­ing. The chap­ters and the exer­cises are very well struc­tured on each other. The e-learn­ing is very exten­sive and I have learned a lot from it.

R. M.,

HR

man­ager for inter­nal train­ing
Excel­lent! The indi­vid­ual top­ics are pre­sented clearly and pro­fes­sion­ally enrich­ing, as well as with a pinch of humour, in his videos and taken up in prac­ti­cal exer­cises. ↓ Con­tinue read­ing! You can feel his years of well-founded prac­ti­cal expe­ri­ence. I had a lot of fun answer­ing them and stay­ing tuned. The learn­ing and inter­nal­iza­tion fac­tor is very high and last­ing. The catchy struc­ture of the top­ics makes it pos­si­ble for me to look up one or the other topic if nec­es­sary, even in the end.

Tina Tosti, Head of Pur­chas­ing and Mar­ket­ing
In his online course, he gives an insight into his knowl­edge and insights into the human fac­tor. I now under­stand bet­ter why his approach is effec­tive. ↓ Con­tinue read­ing! I had the hon­our and the plea­sure of get­ting to know Kourosh Ghaf­fari as an oper­a­tional restruc­tur­ing com­pany and of observ­ing his approach in joint projects. Thanks to his knowl­edge of the human fac­tor, Kourosh Ghaf­fari has the poten­tial to reor­ga­nize com­pa­nies from within. It helps peo­ple to iden­tify the causes of their prob­lems. They work on them­selves to over­come their prob­lems. Those affected con­tinue to develop. Kourosh Ghaf­fari helps to improve peo­ple's togeth­er­ness. He cre­ates order. One agrees on the rules of the game. No more end­less dis­cus­sions.

Mar­tin Bucheg­ger, Cor­po­rate restruc­tur­ing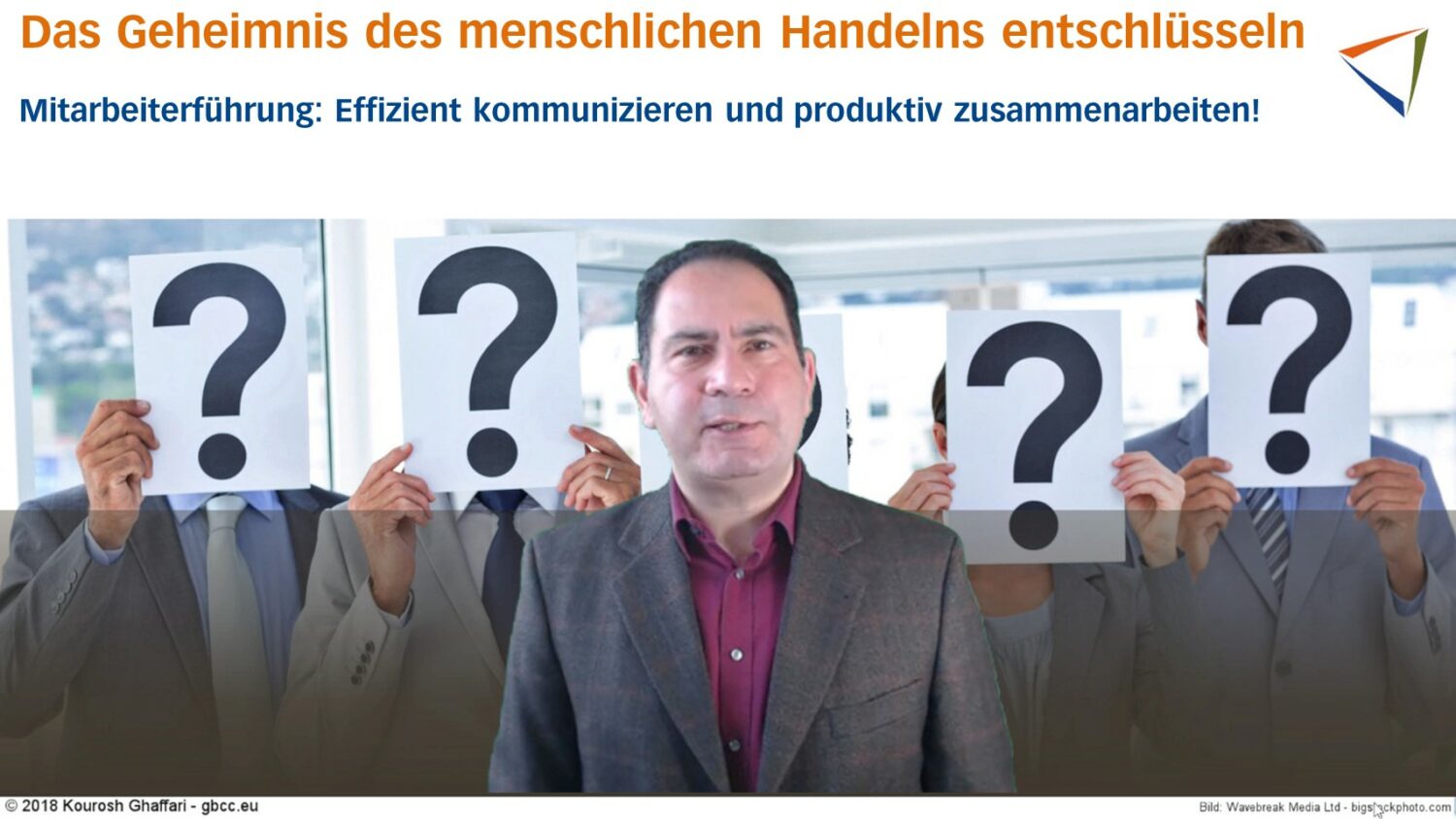 Mitar­beit­er­führung:
Effizient kom­mu­nizieren, Tal­ente erken­nen & pass­ge­nau ein­set­zen!
Kom­plet­tkurs: Alles, was man zu wis­sen braucht, um das Miteinan­der pos­i­tiv zu gestal­ten.
---
About me (Video in Ger­man):
Kourosh Ghaf­fari
CEO - Spar­ringspart­ner |
Interim Co-CEO
---